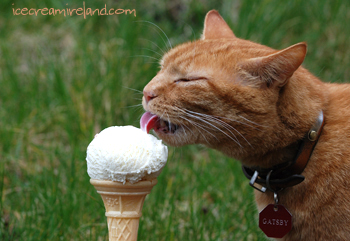 I am a homemade ice cream convert, and loving it!

See, I've been working on adjusting my mindset on frugality-- rather than thinking of "spending less" as success and "spending more" as a failure, I'm trying to focus more on getting the most out of my money. And with that definition, making homemade ice cream is a frugal success for me on all counts. Sure, financially I'm barely breaking even. But it tastes better, lets me use ingredients I feel good about, allows for more creative flavors, and is just fun to make!

I should explain that I am an ice cream addict and am in the habit of ending most of my nights with a bowlful of ice cream. For most of my adult life, this meant picking up cartons of Edy's or Breyer's, whichever was on sale, at $3 each-- I'd buy roughly two a month, which adds up to roughly $72 on ice cream a year. (Not counting the $30-$40 on ice cream shop visits.)

I could make my homemade batches for about the same amount (I got my ice cream maker handed down for free, so I'm not factoring that in.) But I actually choose to spend another $1 or so to use the ingredients that fit my values-- fair trade sugar, fair trade vanilla, and certified humane eggs-- and I love having that choice. (Theoretically there are also certified humane dairy products, but I can't find any near me, so I use "normal" half-and-half.) So that brings it up to $4.50ish a batch, or $0.40 a serving, maybe 25% more than what I was previously spending. (Although it's still cheaper than the $0.60-$0.75 or so a serving for Ben and Jerry's fair trade vanilla, chocolate, and coffee ice creams, the closest thing ingredient-wise to what I'm going for, and they don't even use fair trade sugar in their US pints yet.)

But that's totally the wrong category to compare it to. I tell you, homemade ice cream tastes fantastic! It is in a different league from your ordinary ice creams. In fact, the taste is in the same ballpark as the top five ice cream shops I've ever been to. (By the way, the cat picture up top comes from Ice Cream Ireland, the awesome blog of one of the aforementioned top five.) So not only am I getting peak-experience ice cream on an everyday basis, but considering that ice cream places charge you $4-$5 a serving, I'm getting it at a 90% discount! And I've started turning down stops at ice cream shops, thinking to myself "Why buy that here when I've got great ice cream at home?" (Not to be confused with "Oh, I shouldn't buy ice cream here, I do have some ice cream at home, but maybe this once...") Doing that just three times a year would cancel out the extra I'm paying per homemade batch.

But figuring it all out in dollars and cents doesn't take into account how much fun it is to make ice cream, how nice it is to mix up a small handful of ingredients and know that's all that's in your ice cream, how exciting it is to be flexible and creative about flavors. (Next up on my list: banana chocolate chip.)

In a nutshell: I pay a little more, I get a lot more. As I was getting ready to make my first batch, I ran the numbers, realized it wouldn't save me any money, and thought that my first batch might be my last. Then I tasted it and all was forgotten...

So, who else makes homemade ice cream, and do you love it as much as I do? Or are there other things you make at home that technically may not save you money, but take you to another level of quality for less?